Pierson's Partners in Hope
Pierson's Story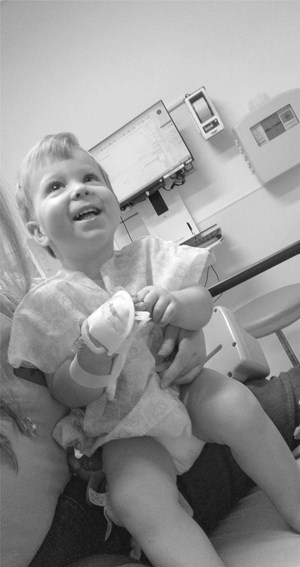 Diagnosed with a brain tumor while still in the womb, Pierson Robert Wolf was born with incredible challenges. However, from day one, Pierson was a powerful fighter. His monogram, pWr, said it all. In his short two and half years of life he was a powerful source of hope to everyone who met him. His story is one of overcoming all odds with a smile and contagious joy – bringing together so many people and organizations including Basket of Hope and the medical staff at the St. Louis Children's and Washington University.
Facing four surgeries in his first three months of life, each hope and prayer brought him the next success, including graduating from occupational, physical, and vision therapy and officially being deemed in remission from brain cancer. In the true mission of Baskets of Hope, Pierson's family was blessed with an incredible network of doctors and friends devoted to Pierson's success. He was able to enjoy normal toddler life including building a special bond with his sister Carolina, before passing away peacefully in his sleep, in the safety of his home and warm bed.
The Wolf family shares his brave story of faith, hope, and fighting spirit to encourage other families with children facing serious illness. They hope you will join us in spreading and celebrating the hope that Pierson's short but beautiful life inspires. Sometimes the greatest hope is found in the smallest blessings, the small milestones and connections our children are able to take during their time with us. For each family with a struggling child, with the grace of God, there is the hope of so many small victories, special moments to be shared, miracles to achieve, and the strength and love of a community to support them.
May is Brain Tumor Awareness Month!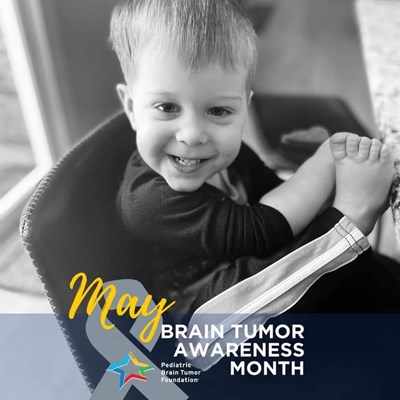 "May is Brain Tumor/Brain Cancer awareness month. There is far too little research on brain tumors, especially for pediatrics. We are doing everything we can to help research with Pierson's information and life. If we could help other families not go through the pain we experienced, that would help provide purpose and meaning to all of this" - Lauren Wolf, Pierson's Mother
Pierson PWR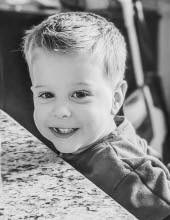 The Wolf family is partnering with Basket of Hope to give hope to families with seriously ill children in memory of their beloved son, Pierson. Would you like to join them by sponsoring a Basket of Hope to be delivered to a family? For every basket sponsored for $100, your name will be placed on a Basket of Hope to be given to a family with a seriously ill child.