Pierson's Partners in Hope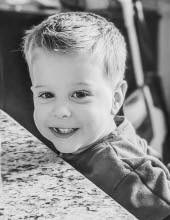 Be a Pierson Partner and allow Pierson's memory live on in giving hope and encouragement to other children suffering from cancer and other serious illnesses.
The Wolf family is partnering with Basket of Hope to give hope to families with seriously ill children in memory of their beloved son, Pierson. Would you like to join them by sponsoring a Basket of Hope to be delivered to a family during this Easter season, or in the year 2021? For every basket sponsored for $100, your name will be placed on a Basket of Hope to be given to a family with a seriously ill child.