Basket Packing Event - Phoenix
National
February 07, 2023
10:00 AM

to

12:30 PM
Location:
Phoenix Raceway (The Barn) -- Enter through GATE A
JOIN US IN GIVING HOPE.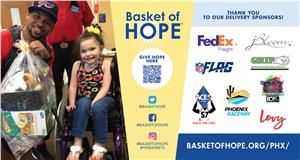 You can make a difference in the life of a seriously ill child. Help us reach our goal of 1000 Baskets Sponsored for families at Phoenix Children's Hospital & Valleywise Health Medical Center.

Each family gift is valued at more than $400 and will be personally delivered to families with seriously ill children by current and former NFL players!
JOIN NFL legend, Lorenzo Alexander to assemble 800 Basket of Hope gifts filled with games, toys, craft and educational items for seriously ill children and Basket of Hope Totes for parents filled with items to nourish them physically, mentally, emotionally and spiritually!
In-kind or cash donations:

EVENT SPONSORS $5,000 Banner displayed at the packing event and at each delivery. Name on donor card in each gift basket. Social media announcements, local media and video announcements.

SUPER SPONSORS $1,000 Name on donor card in each gift basket, social media announcements.

BASKET SPONSOR $100 Sponsor 1 basket!
The cost of this project is partially funded by our wonderful national sponsors, but it's ongoing success is dependent upon local volunteers and sponsors like you!
2022 NASCAR CHAMPIONSHIP RACE - BASKET OF HOPE EVENT
2015 Phoenix Super Baskets of Hope Event