Harvest Week
St. Louis
October 04, 2021

to

October 09, 2021
9:00 AM

to

12:00 PM
Location:
Basket of Hope Warehouse, 3558 S. Jefferson Ave., St. Louis, MO 63118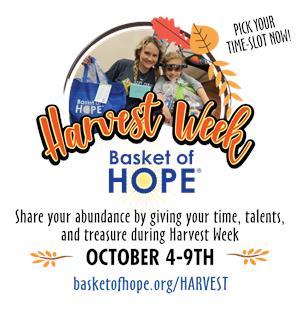 Gather with your friends to fill Basket of Hope gifts for families with seriously ill children!
What?: Assemble & sponsor basket of hope gifts to be given to 500+ seriously ill children in St. Louis & beyond.
Where?: Basket of Hope Warehouse in the CPH Building 3558 South Jefferson Avenue, Saint Louis, MO 63118
When?: Attend one of the following days: October 4th-9th from 9am – Noon
Sponsors will be recognized at our Basket Of Hope Annual Tailgate Auction on Saturday, November 6th
GOAL
:
ASSEMBLE BASKET OF HOPE GIFTS AT THE HEADQUARTERS TO BE GIVEN TO 500+ SERIOUSLY ILL CHILDREN IN ST. LOUIS & BEYOND DURING "HARVEST WEEK". SPONSORS WILL BE RECOGNIZED AT OUR BASKET OF HOPE ANNUAL
PICNIC
AUCTION ON NOVEMBER
6
TH
.
GIVE HOPE TODAY!
2020 VIDEO:
https://www.youtube.com/watch?v=QUx_bfYjFRQ&t=17s
QUESTIONS?:
Janelle Madi [email protected]
Angela Brunette [email protected]
Office: 314-268-1515